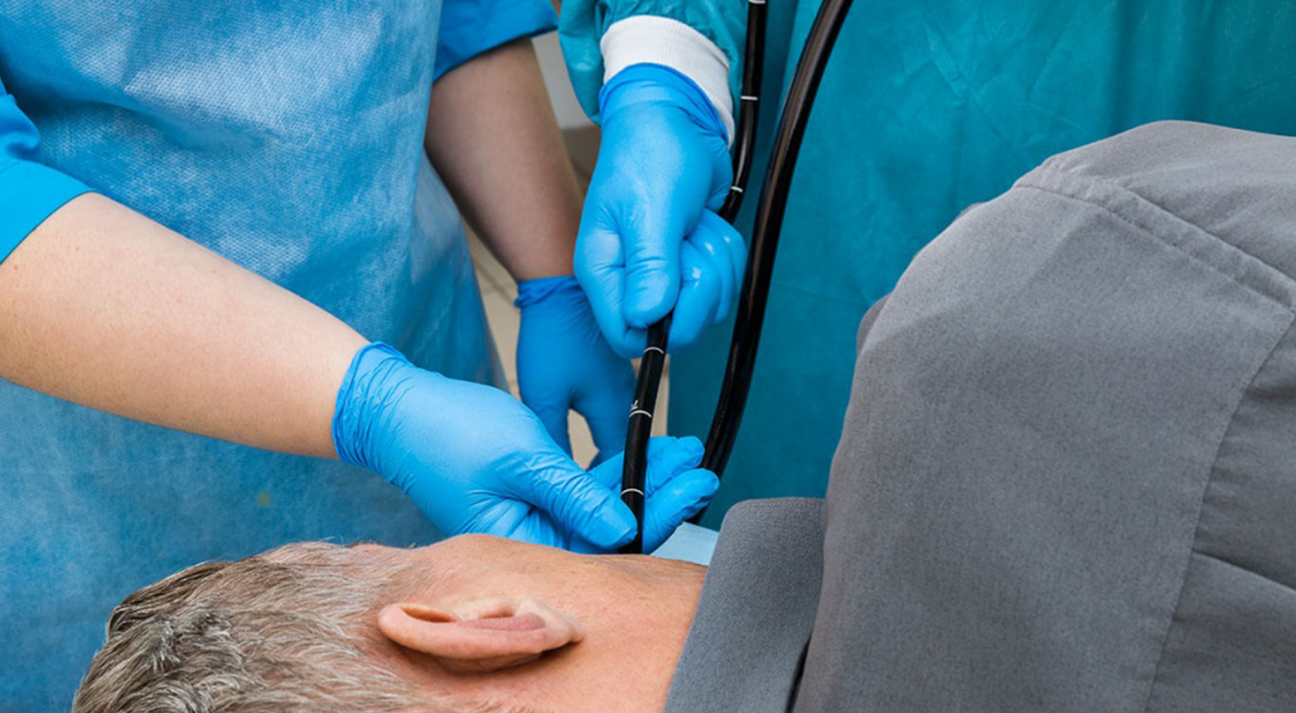 | | |
| --- | --- |
| Gastric mucosa biopsy (1 unit) | 1 150 rub. |
| Sampling of biomaterial for histological examination | 650 rub. |
| Polypectomy, biopsy (more than 10 units) | 10 930 rub. |
| Polypectomy, biopsy (1 unit) | 4 030 rub. |
| Polypectomy, biopsy (6 to 10 units) | 8 630 rub. |
| Removal of foreign bodies, ligatures | 5 750 rub. |
| Installing of feeding tube | 3 450 rub. |
| Diagnostic fibrogastroscopy | 4 350 rub. |
| Therapeutic and conservative fibrogastroscopy | 6 900 rub. |
What is an esophageal duodenoscopy (gastroscopy)? Esophaggastroduodenoscopy (EGV) is a modern endoscopic study that allows a physician to visually examine (scopy) the internal surface of the esophagus (esophagus-), the stomach (gastro-) and the duoden intestine (duodeno-) and to detect diseases of these organs. Gastroscopy allows us to see the cause of the pain. Take for further research a piece of tissue from the pathological part of the mucosa, and perform therapeutic manipulations if necessary: remove polyps, stop bleeding from the ulcer, etc. Persons over 35 years of age must be examined as part of the screening every year. It is through regular endoscopic examinations that it is possible to detect malignant digestive tract formations in the early stages, when not only surgical but also endoscopic removal of certain tumors is possible, with a percentage of recovery, naturally much higher than in the treatment of neglected forms. Information for reference: Stomach cancer is the fourth most common cause of cancer, and the second most common cause of death worldwide. Early detection of cancer significantly improves the prognosis of the disease, and timely diagnosis of the pre-cancer mucosa changes allows measures to be taken to prevent its development. Of course, symptoms such as abdominal discomfort, unpleasant eating sensations, heartburn, chair disturbance, chair abnormalities (blood, mucus, pus) And others, they may become important bases for unplanned endoscopic research. How do you prepare for the EGS? • The EGG is conducted on an ad hoc basis, so should not eat, drink or smoke for at least six hours before the study; • If the study is done in the morning (before 12:00), the last meal must be not later than 20:00 on the eve of the study; • If the study is done after 13:00, there is no need to starve for half a day - it is easy to have breakfast (e.g., cottage cheese, yogurt) and to have a drink (tea, water, coffee) at least six hours before the expected study; •If you are constantly taking your medication, please agree with your doctor on how to take it. The constant necessary medication, which reduces blood pressure, normalizes CSC and heart rate, anti-diabetic drugs, hormonal therapy, is possible before the study. These preparations shall be taken with a small sip of water (not more than 20 ml) or sub-lingwalno (under the tongue) not later than 3-4 hours before the intended examination; • If iron is administered orally (through the mouth) permanently, it is necessary to stop taking iron two days before the examination; • After X-ray studies of the LCD using contrasting substances (barium, etc.) a period of at least 2-3 days must have elapsed before the EGV; • It is very important to warn the doctor about allergic reactions, especially to anesthetics such as novocaine and lidocaine. Contraindications to the procedure: • aneurysm (persistent extension with wall thinning) aortic • acute cerebral (stroke) and coronary (myocardial) circulatory disorders • severe diseases of the circulatory system, including severe stages of hypertension • haemophilia (clotting disorder and bleeding tendency) • severe mental disorders • pronounced spine curvature • frequent attacks of bronchial asthma. The 24-hour hotline +7(423)2-790-790 is available for appointment.