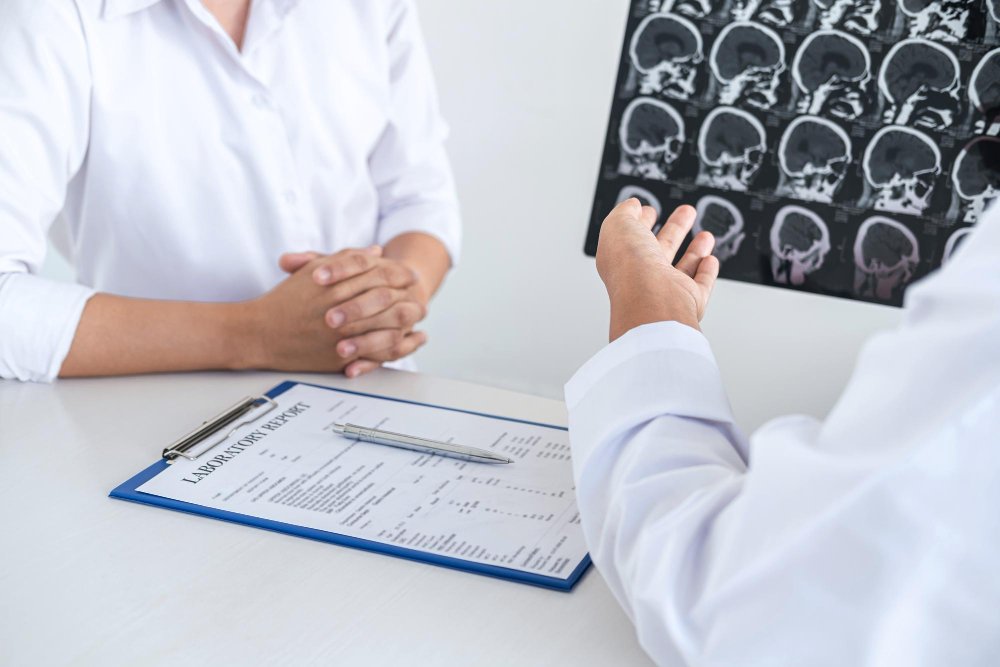 | | |
| --- | --- |
| Консультация невролога ОНЛАЙН | 2 000 rub. |
| Unscheduled appointment of a neurologist | 3 500 rub. |
| Course appointment of a neurologist in a hospital | 1 500 rub. |
| Medical examination of a neurologist (check up) | 500 rub. |
| Registration of the disability certificate by a neurologist | 500 rub. |
| Registration of the disability certificate by a neurologist | 5 000 rub. |
| Initial appointment of the neurologist | 2 800 rub. |
| Repeated appointment of a neurologist | 2 000 rub. |
Neurologist diagnoses and treats diseases of the central nervous system Pacific International Hospital provides diagnostics and treatment for diseases of the central and peripheral nervous system. The consultation of a neurologist will help not only to assess the state of health, but also to identify deviations from the norm. To make a correct diagnosis, such diagnostic methods as magnetic resonance and computed tomography, X-ray and ultrasound examinations, and laboratory examinations can be prescribed. All these studies allow us to detect diseases of the nervous system at an early stage and accurately diagnose, which, in turn, makes it possible to conduct effective treatment. Consult a neurologist if you have • back and neck pain, • spinal injuries and their consequences, • headaches, as well as migraines, • arterial hypertension, • insomnia or sleep disorders, • epilepsy, • stroke or sudden violation of cerebral circulation with damage to certain parts of the brain Parkinson's and Alzheimer's disease Treatment of migraine with botulinum therapy Treatment of migraines in Pacific Intenational Hospital is carried out by botulinum therapy according to a clearly regulated protocol of Botox injection. The drug is injected in one procedure in the form of a series of microinjections with a thin insulin syringe into the muscles of the face, head and neck using the "fixed points" method and the "follow the pain" method. The advantages of botulinum toxin therapy • The effectiveness of the method. • Significant improvement in the quality of life. • Reducing the frequency of attacks. • Increase in period of remission. • Reducing the intensity of headache. • No costs for drugs. • Combination of cosmetic and therapeutic procedures. The bonus is the elimination of wrinkles in the forehead area. • The drug load on the body (liver) is reduced. • The cause of the pain attack (migraine) is eliminated. Timely help of a neurologist will not only relieve pain, but also bring back the joy of life!
Patient reviews
Врач знает подход к деткам. Специалист с большой буквы

Срочно нужно было записаться к мануальному терапевту, записали на следующий день на утро. Вежливый персонал. Были на приёме у Павлинич Сергея Николаевича, врач вежливый, к деткам знает подход. Никаких лишних вопросов, все только по делу. Сказал как поступить в данной ситуации с нашей малышкой, хотя он не педиатр, а мануальный терапевт. Специалист с большой буквы, теперь только к нему.

+7-963- 83XXXXX, 12 октября 2020

5.0, 

Doctors 5, Staff 5, Treatment 5

Answer from Pacific Hospital, 12 октября 2020Благодарим Вас за отклик! Нам важно ваше мнение. Отзывы помогают людям находить нужного доктора, а также вдохновляют нас становиться еще лучше.